A new fund to support innovation in accelerator technologies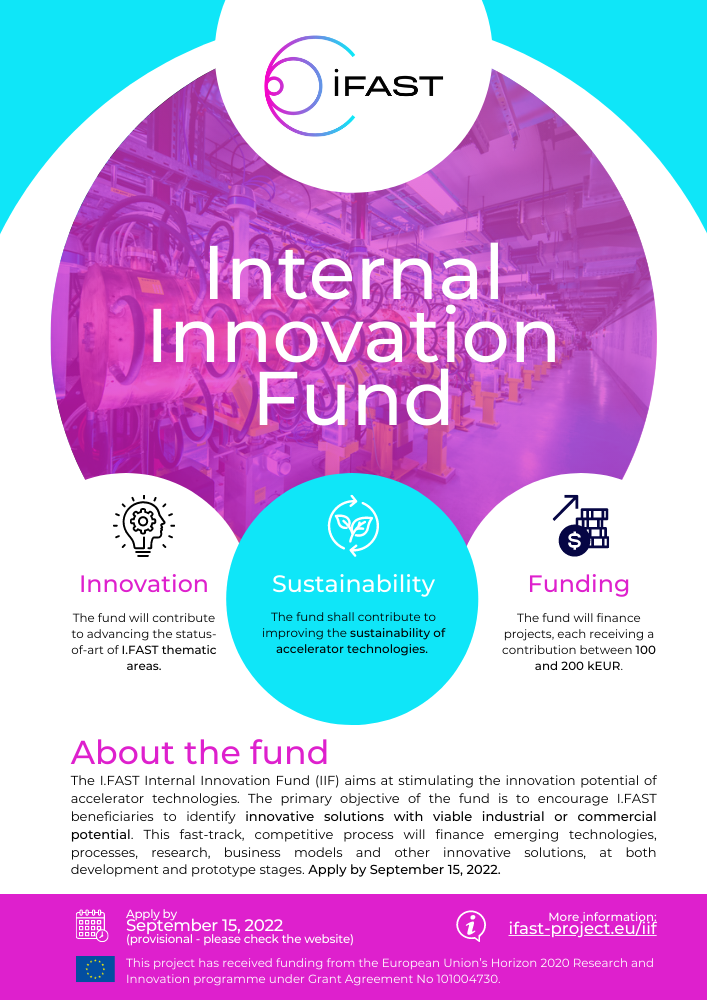 The I.FAST Internal Innovation Fund (IIF) aims at stimulating the innovation potential of accelerator technologies. The primary objective of the fund is to encourage I.FAST beneficiaries to identify innovative solutions with viable industrial or commercial potential. This fast-track, competitive process will finance emerging technologies, processes, research, business models and other innovative solutions, at both development and prototype stages.
Technologies supported by the IIF shall be capable of advancing the status-of-art of the related I.FAST thematic areas. They shall also contribute to improving the sustainability of particle accelerator technologies, by reducing accelerators' electricity consumption or footprint, by improving their performance for an equivalent impact, or by directly preserving the environment using accelerator technologies.
The fund will finance projects, each receiving a contribution between 100 and 200 kEUR.
Planning
Deadline for 1st submission: September 15, 2022.
Deadline for 1st round of evaluation: October 17, 2022.
Deadline for 2nd round of evaluation: November 30, 2022.
Start of the project: January 2023.
Useful links
Selected projects
Permanent Magnet for High Efficiency Klystrons (PM4HEK)

Klystrons need an electromagnetic solenoid to guide the electrons on a vacuum tube. In order to reduce the electrical and cooling energy required, the project aims to design and build a permanent magnet solenoid for an available klystron. By increasing efficiency of the klystrons, it promises to reduce the operational costs of any accelerator together with the associated carbon footprint.

---

Institutes and partners: CERN, ELYTT (Spain).

 
 

High-Temperature High-Gradient Superconductors (HIGHEST)

Although discovered in 1986, high-temperature superconductors have never been used in a high-power microwave device, like an accelerating structure. This technology would open many opportunities of new, higher-performance, more efficient and more sustainable accelerator RF system. The project aims to develop and optimize a 3D coating technology and demonstrate its scalability to make practical RF high power devices. It promises an improvement in Q factor resulting in relevant energy savings for accelerators.

---

Institutes and partners: CERN, CSIC-ICMAB (Spain), Ceraco (Germany).

 
 

A Field Emission Cathode for a Travelling-Wave RF gun for High Brightness Beams in Industrial and Small Research Facility Settings (FE Cathode)

RF photoguns are an invaluable technology in the accelerator physics world. They act as high brightness electron sources for a wide variety of applications. However, these sources require complex laser which make them infeasible in industrial applications. The project aims to develop a versatile high brightness MeV electron source based on a field emission cathode. The field emission gun's overall footprint is expected smaller than compared to RF photogun and DC thermionic gun. Consequently, it will have a reduced environmental impact.

---

Institutes and partners: PSI (Switzerland), VDL ETG (Switzerland).

 
 

KAIO Accelerator

The project aims to industrially develop a cost-efficient and stable high-power laser technology in kHz class, apt to be used in radiobiology and non-destructive testing applications. It promises to reduce energy requirements for laser-plasma accelerator.

---

Institutes and partners: CNRS-LOA (France), CNR-INO (Italy), SourceLAB (France).

 
 

Development of Highly Efficient MW Class Cross Field Vacuum Tube Amplifier for Particle Accelerators Driven by a Solid-State Power Amplifier at 750 MHz X

Cross-field amplifiers (CFA) are similar in operation to magnetrons and are capable of providing relatively large amounts of power with high efficiency i.e. up to 80%. In contrast to magnetron, CFAs have an excellent phase stability at a similar low manufacturing cost. The project aims to synergize the power generation technologies and develop the megawatt class CFA as the main amplifier of the Solid-State Power Amplifier (SSPA) driver, to achieve the highest degree of efficiency, cost-effectiveness, compactness and lifetime of an RF power source for particle accelerator and medical applications.

---

Institutes and partners: Uppsala University (Sweden), Scandinova AB (Sweden), Exir Broadcasting AB (Sweden).

 
 

Millisecond flash lamp treatment for SRF accelerating cavities

The project aims to develop a novel thermal process to improve the performances of SC coating. Dubbed, flash-lamp-annealing (FLA), this technology could significantly reduce the environmental impact and energy-cost of SRF accelerator technology, by reducing cryogenic power costs by 60% as well as energy consumption (20-30%), which will participate to reduce CO2 emissions.

---

Institutes and partners: INFN (Italy), HZDR (Germany), Piccoli (Italy).

 
 

AM applications of refractory metals for ION Source cavities

The project aims to develop new refractory metals alloys specifically designed for additive manufacturing to improve the physical performance of the ion sources (Ta-based and/or Nb- based alloys) or to solve the fabrication defects related to pure metals production. It promises to reduce amount of wasted material and increase process efficiency.

---

Institutes and partners: INFN (Italy), CERN.

 
 

Demonstration of additive manufacturing for large and complex shaped vacuum chambers by Plasma Metal Deposition (PMD®)

Accelerator science and technology requires several vacuum chambers as well as chambers for analysis systems. Plasma Metal Deposition (PMD) is an additive manufacturing method which allows to fabricate near net shape components. The project aims to demonstrate PMD as a viable additive manufacturing technique to build of a large and complex vacuum chamber geometry. It promises a positive impact on the environmental footprint by reducing material waste by 30 % and more, as well as integration steps, stock material, and lead time.

---

Institutes and partners: RHP Technology GmbH (Austria), SBI GmbH (Austria).